"The issue of al-Qaeda (AQ) acquiring biological weapons has so far been a remote preoccupation of Western intelligence services. However, with the Syrian crisis the potential acquisition of biological weapons by AQ, the issue is now a clear and present danger."
(http://newmediajournal.us/indx.php/item/11049)
b.anthracis
In 2001 the Northern Alliance discovered seven state of the art labs in Afghanistan. One of the primary labs which conducted work on anthrax for vaccine development was t
he Institute of Veterinary Vaccine Production.
The lab was first built in Charikar, in the northern province of Parwar, in 1993-4 with equipment from India then moved to Kabul, where the Taliban oversaw work on anthrax and possibly other highly pathogenic agents.
The Taliban officer in charge of the lab network was Mullah Qari Abdullah.
Midhat Mursi al-Sayid Umar, headed AQ's WMD program 'Project al Zabadi.
(
http://www.afghanistannewscenter.com/news/2001/november/nov20h2001.html)
The other labs were built mainly with equipment procured from Germany.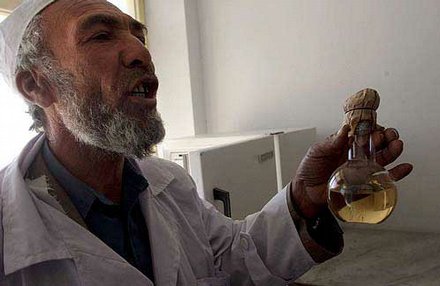 Awww2Ljworld.com
What remains, if anything, of the programs which the Taliban oversaw, remains with the scientist-terrorists who worked in those labs and trained in the camps. Who were they and more importantly where are they now? Not only did the Taliban oversee several state of the art, mainly veterinary and agricultural laboratories which worked on vaccines for anthrax among other highly pathogenic agents, it applied this expertise to training camps, mainly the Derunta camp. The "core" of AQ WMD Committee included: Midhat Mursi al Sayid 'Umar aka Abu Khabab, Assadalah Abdul Rahman and Abu Bashir al-Yemini, all were associated with or running trainings on CBW at the Derunta camp.
"According to experts and various reports, al Masri provided Afghanistan Taliban poisons and explosives training in his hideout at Derunta Camp, near Jalalabad. Derunta camp came into the limelight when videotapes showing AQ experiments poisoning dogs with chemical weapons surfaced in 2001. According to AQ observers Masri received his chemical weapon training in the Egyptian army before defecting to the militant Islamic Jihad group founded by Ayman al Zawahri. A threat from 2010 signed by Mustafa Abu al Yazeed warned that al Masri had 'left behind (...) a generation of faithful students who will make you suffer the worst torture and avenge him and his brothers." On 28 July of 2008, the Pentagon confirmed al Masri was killed in a missile strike in Pakistan.
(http://www.idsa.in/cbwmagazine/TalibanandWeaponsofMassDisruptionThreat_aroul_0110#.Uzp0j_mSwVY) While several of AQ's top BW and CW experts have been killed others remain at large and or have been held under detention.
http://en.wikipedia.org/wiki/Derunta_training_camp
Where are they now?
In 2004, an interior ministry official for France reported that evidence from Islamist militants arrested in the Lyon area made it clear an attack with botulinum or ricin toxin was being prepared. Of the eight suspects arrested, most were related to Menad Benchellali, the son of a radical imam in the Lyon suburb of Venisseux, jailed since 2002. The ministry official confirmed that Benchellali was a chemical weapon expert trained in poison making in Al Qaeda camps in Afghanistan and was actively trying to produce botulim toxin and ricin which he had tested on animals. See: http://www.theguardian.com/world/2004/jan/12/alqaida.france
Israel recently announced the detention of Samar Halmi Abdel Latif al Barq, a Kuwaiti citizen of 'Palestinian' descent. Prior to his detention, Al Barq studied microbiology in Pakistan and underwent military training in Afghanistan before his recruitment by AQ by Ayman al Zawahiri. According to the Jerusalem Post. Additionally, he spent three months in 2003, at Guantanamo Bay and five years in a Jordanian prison. (http://www.jpost.com/Defense/Global-Jihad-terorrist-held-in-Israel-for-three-years-332022)
Fortunately al Barq is in detention, however, other AQ BW experts continue to pose an unconventional weapon threat, if not a risk to global public health security.
One of the better known terrorist/scientist working with AQ is Yazid Sufaat. He too is currently in detention again, having previously served seven years in a Malay prison under ISA detention. A rather concise an accurate biography on Wikipedia lists Sufaat as having gained a degree in microbiology from California State University at Sacrament in 1987 and then serving as an army medical technician in the Malaysian Army. In 1993 Sufaat set up a pathology laboratory called Green Laboratory Medicine where he subsequently tried on behalf of al Qaeda to weaponize anthrax. (for full citations see: http://en.wikipedia.org/wiki/Yazid_Sufaat and http://www.un.org/sc/committees/1267/NSQI12403E.shtml)
This is a social network analysis by Valdis Krebs of the 911 AQ terrorists (See: http://www.orgnet.com/prevent.html). Sufaat was deeply involved in AQ's attempts to acquire and weaponize pathogenic agents. It appears the majority of his R&D skills were devoted to anthrax weaponization. He also provided material assistance to two of the 911 hijackers of Flight 77 which crashed into the Pentagon.While Sufaat has been on the radar for years, also during his time in Afghanistan, he's recently been re-arrested and is under ISA detention again in Malaysia.
"AQAP has also publicly called for, "Brothers with less experience in the fields of microbiology or chemistry, as long as they possess basic scientific knowledge, would be able to develop other poisons such as ricin or cyanide."12 The US-born cleric, Anwar al-Awlaki, before his own demise in September 2011, had said, "The use of chemical and biological weapons against population centres is allowed and is strongly recommended."13"
http://newmediajournal.us/indx.php/item/11049
Which AQ BW operatives remain unaccounted for?
to be continued