Author's note: Several years ago on the 10th Anniversary of Vector, one of Russia's premier BSL 4 laboratories and one of two WHO appointed smallpox repositories, I was invited by Sergei Netesov, then head of Vector and Lev Sandachev, to come to the celebration. I recall that Netesov was extremely kind and patient when I would ask tedious questions related to work on smallpox. In turn I invited him and Lev to our meetings in Brussels. Vector is an interesting place, not least of which because it houses 128 strains of smallpox, my favorite orthopoxvirus and is internationally recognized for excellence in virology. A recent article caught my eye and I wish I had seen it in February, but its worth noting none the less as it demonstrates exactly why we must maintain our BSL 4 laboratory infrastructures.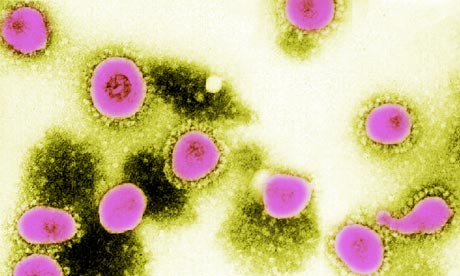 coronavirus
The Siberian Times posted an interesting article entitled: "Leading Siberian Scientists Protect Winter Olympics from Threat of Bio-Terror Virus Attacks." See full article: http://siberiantimes.com/science/casestudy/news/leading-siberian-scientists-protect-winter-olympics-from-threat-of-bio-terror-virus-attacks/
smallpox (variola major)
While an aspect of bio-defence, the r
aison d'être of BSL 4 facilities in fact is exactly what these scientists were tasked with, often times such clear and practical interfacing with the counter-terrorism community is lost on the general public. The article offers a great description of why bio-defence plays a crucial role for national security, certainly at events as high profile as the Sochi Games and for which most nations conduct routine exercising and training on. While Japan apparently provided push kits to detect a range of dangerous pathogens (
Marburg, Ebola, Lassa, Machupo, Dengue and Yellow fevers),
the article notes that Vector's 'anti-epidemic team consists of infectious disease specialists and physicans who are capable of 'identifying the disease they are faced with.' Moreover 'the experts from high security Koltsovo (Vector) developed six test systems that they sent to Sochi in case of Olympic participants complaining about infectious diseases."
"
The Vector StateVirology
and Biotechnology Research Centre
, also known as the Vector Institute, is a major research and production centre focusing on molecular biology,
virology, genetic engineering, biotechnology, and epidemiology. The centre was a trailblazer in inventing and launching the production of test systems for the HIV and Hepatitis B diagnostic justification, and manufactured the only internal vaccine against the Hepatitis A virus."
Its good to recall the work conducted by BSL 4 institutes which keeps us all safe and helps ensure global public health security. Russia's anti-epidemic capabilities are quite enviable.
http://www.irkutsk.ru/chumin/anti-epidemiology_measures_eng.htm
Dragon voice recognition
Jill Bellamy is an internationally recognized expert on biological warfare and defence. She has formerly advised NATO and for the past seventeen years has represented a number of bio-pharmaceutical and government clients working on procurement strategy between NATO MS and Washington DC. Her articles have appeared in the National Review, The Wall Street Journal, The Washington Post, The Sunday Times of London, Le Temps, Le Monde and the Jerusalem Post among other publications. She is a CBRN SME with the U.S. Department of Defence, Chemical, Biological, Radiological and Nuclear Defence Information Analysis Center and CEO of Warfare Technology Analytics, a private consultancy based in the Netherlands. She is an Associate Fellow with the Henry Jackson Society, UK.