photo:www.ascenion..de
"Medical intelligence, defined by the U.S. Department of Defence is 'a category of intelligence resulting from collection, evaluation, analysis, and interpretation of foreign medical, bio-scientific, and environmental information this is of interest to strategic planning and to military medical planning and operations for the conservation of the fighting strength of friendly forces and the formulation of assessments of foreign medical capabilities in both military and civilian sectors. Also called MEDINT.(1). See:
http://en.wikipedia.org/wiki/National_Center_for_Medical_Intelligence
Assessing biological threats both natural and deliberate is often considered a multi-agency and multi-national endeavor. Indeed, global health agencies such as the World Health organization have developed sophisticated disease surveillance architectures. For example, in October of 1995, a new unit was established at WHO as the Division of Emerging Viral and Bacterial Disease Surveillance and Control (EMC).
(WHO 1995b
), to be later renamed successively as the Department of Communicable Diseases Surveillance and Response (CSR) and the Department of Epidemic and Pandemic Alert and Response (EPR). In 2000, under the operational support of CSR team members, a Global Outbreak Alert and Response Network
(GOARN) was created to coordinate technical resources involved worldwide in combating outbreak-prone diseases (Enserink 2004)
. The apparent success of GOARN and collaborating technical partners in limiting the international spread of SARS in 2003 (Heymann and Rodier 2004)
has vindicated efforts led by WHO to put the control of emerging or re-emerging diseases high on the global health agenda. See:
http://heapol.oxfordjournals.org/content/22/1/2.long
image: www.fanpop.com
While international networks for surveillance of emerging and reemerging disease serves a vital function in identification and prevention of the spread of disease, among other things, it is but one aspect of biological defence. The United States has one of the more advanced MEDINT infrastructures in the world. Few people are aware of how medical intelligence is collected and the critical aspect this serves, specifically in terms of forecasting. In an online U.S. Department of Defence publication, by Cheryl Pellerin entitled, "Medical Intelligence Center Monitors Health Threats," she offers interesting insights
into how NCMI functions, it's targets and products. Pellerin's article states:
"The Defence Intelligence Agency's National Center for Medical Intelligence, known as NCMI, is an

intelligence organization, not a public health organization. The center's intelligence targets are medical and scientific issues. Its products, like those of the rest of the intelligence community are predictive analysis and products for warning, produced in four divisions who's experts follow developments in infectious disease, environmental health, global health systems and medical science and technology. [ ] "In the infectious Disease Division, the baseline requirement is to understand the risk of every type of [endemic] infectious disease in every country. You can imagine why, Rizzo says. "If an outbreak of mystery disease occurs in a country, we need to be able to say that we know int hat country that Ebola, malaria and dengue are very common, so my people can look at the symptoms of mystery disease and know" the most likely suspects. Rizzo said. "If mystery disease doesn't fit the things that are most likely," he added, "then we have to start looking really differently.""
"At NCMI, every division also has a baseline product in addition to alerts and threat forecasts. In the Infectious Disease Division, it's the Infectious Disease Risk Assessment, a predictive product, Rizzo noted, "that says if you go to a place unprotected, we predict these are the diseases your people will get, and ....these are the numbers of cases." "Every federal organization that sends Americans overseas uses this product, along with baseline products from the other divisions." Also at NCMI is a cross-divisional pandemic warning team that spends all its time monitoring highly pathogenic h5N1 avian influenza and other potential pandemic diseases. In April 2009, two months before the World Health Organization and the U.S. Centers for Disease Control and Prevention officially declared the global outbreak of H1N1 influenza pandemic, NCMI published an intelligence product for senior U.S. policy makers that predicted H1N1 would be a pandemic. "That does not make us better than [CDC]," Rizzo said, "What it does do is make us different, because [CDC] has to be right. We in the intelligence community love to be right, but we also know that in order to provide timely warning, warning in time for the customer to take action to mitigate what we've predicted, we have to be early. And the earlier we predict....the less certainty we have."

The NCMI Science and Technology Division is responsible for understanding every nation's medical defense capabilities against chemical, biological, radiological and nuclear weapons.

"If you understand a country's medical defense capabilities, that can very much help you understand what their other capabilities might be and what their intent is," Rizzo said. "People plan medical defense based on what they think is going to happen to them or what they think they can do." For full article see:

http://www.defense.gov/news/newsarticle.aspx?id=118163
In contrast to NCMI, the European Commission operates an integrated system of number of surveillance and epidemic intelligence collection. Below is a diagram from DG Public Health 'Medical Intelligence in Europe:
http://ec.europa.eu/health/preparedness_response/generic_preparedness/planning/medical_intelligence_en.htm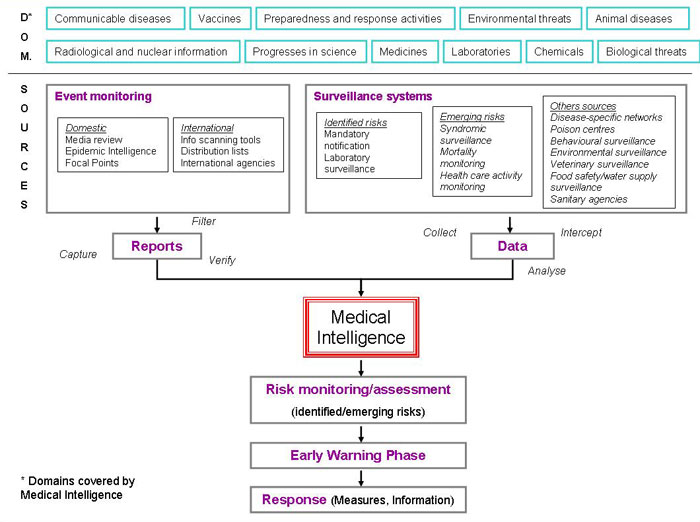 Medical intelligence in Europe is closely associated with real time disease outbreaks, monitoring and surveillance and data collection within this domain. In addition it covers 'epidemic intelligence on communicable disease but also chemical, radiological and nuclear information, it reviews the latest developments in health, as for instance the progress in science, in medicine, vaccines and covers the preparedness and response activities. See:
http://ec.europa.eu/health/preparedness_response/generic_preparedness/planning/medical_intelligence_en.htm
Medical intelligence plays a vital role not only in national security but public health security. The challenge today is to bring aspects of this integrated network to areas of the world with more limited infrastructures: Africa, Asia and the Middle East, particularly those aspects which related to monitoring and disease surveillance.
Dragon voice recognition
file:///C:/Users/Jill/Downloads/nps03-012604-01%20(1).pdf