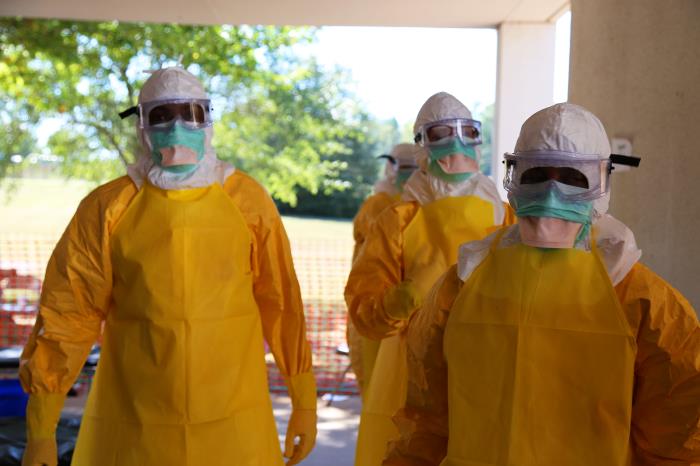 Both the United States and the Soviet Union ran offensive biological weapon programs up too and during the early 1960's. Both the US and Russia are well placed to respond to the current Ebola outbreak burning across West Africa. While the running of offensive BW programs should not be considered the gold standard of preventing and controlling future outbreaks of Category A diseases, it does advantage those nations with a wealth of experience which many nations who did not run BW programs simply lack. Unfortunate as it may be, previous BW programs offered research opportunities which don't exist today, but which might prove useful in a post offensive BW era under the BTWC. We should consider that as repugnant as offensive weapon programs were and are in this instance it may well offer postive outcomes.
Notably, Russia has provided two teams to Guinea. In August, "A decision to dispatch a specialized team of highly qualified experts in virology and epidemiology to western Africa, which has been stricken by an unprecedented epidemic of Ebola fever, was taken by the Russian government. The top-notch mobile lab they took along with them is meant for [conducting] emergency tests on the spot. The experts are staff members from the Louis-Pasteur Institute of Epidemiology and Microbiology in St. Petersburg." "We're sending the top rate professionals there," Russia's Deputy Prime Minister Olga Golodets said Thrusday." See: http://itar-tass.com/en/world/746454
Indeed the Russian's, much to their credit, have followed up with a second team of highly trained scientists, a capability and capacity, which most nations would be envious. "The second group of Russian scientists has started diagnosing the disease caused by the deadly Ebola virus in Guinea, the director of Vector Research Center for Virology and Biotechnology said on Tuesday. We have sent a second brigade of virologists to continue work in Guinea," head of the Vector, Valery Mikheyev said." Source:http://itar-tass.com/en/world/754290 "Russian experts are also working at the Donka Hospital in the Guinean Captial city of Conakry, in close [coordination] with the World Health Organization and Medecins sans Frontieres."

Source: Russia Beyond the Headlines -

http://rbth.co.uk/science_and_tech/2014/09/25/russian_scientists_develop_experimental_vaccine_against_ebol_40105.html

)
To date,
Russia has sent two highly experienced teams into Guinea with full laboratory capabilities and have made a significant contribution toward ending the outbreak in Guinea. "The second team of scientists, like the first one, is stationed in a mobile laboratory on the basis of a hospital. The experts are using and testing systems developed in 2010 by the Vector Institute to detect six viruses causing deadly fever. Beside Ebola, the testing systems can detect Marburg virus, Lassa fever, Machupo virus, Dengue fever and Yellow fever within 24 hours. The systems were used in the work of anti-epidemic teams at the Sochi Winter Olympics. The Russian testing system for Ebola is the world's only system registered on the national level, Mikheyev said. Other countries use military testing systems to detect the virus, he added." Source:http://itar-tass.com/en/world/754290
"According to Russian sanitary chief Anna Popova, "Russia is considering sending further teams of health care workers to West Africa. A team of Russian epidemiologists, virologists and bacteriologists is currently station in Guinea testing anti-Ebola vaccine and has begun working on a new drug to treat and prevent Ebola. Triazavirin is a new Russian anti-viral drug, which can be used to treata 15 strains of the flu virus, including A/H1N1, also known as swine flu and H5N1, known as avian flu, at any stage of the disease." http://sputniknews.com/russia/20141013/194033682.html
In contrast, smaller states who have never had a biological weapon program and have stood at the side lines popping up at BTWC meetings to pilfer out superficial admonishments, lack the depth of knowledge states with previous BW programs no doubt retained. The Netherlands, for example, have recently sent a support ship to West Africa. In fact the Dutch effort seems more for political show than what is realistically required in theatre to control this outbreak. Efforts by states looking to promote themselves on some international stage by testing a new war ship, in this instance is misguided and possibly inhibits and distracts nations with in-depth knowledge and actual capabilities from doing their work. The worlds worst Ebola outbreak, humanitarian crisis and international public health emergency should not be used as an opportunity to promote the sale or showcase a first in class warship; even with state of the art health care and hospital on board. It is not the time nor place for seeking attention on the international stage.
As thousands of people die from a horrific disease, it is time to allow major nations and organizations with the appropriate resources to contain this outbreak, without distraction. Most actors focusing on saving lives would surely agree that this is not an opportunity for economic gain. Unfortunately, the dire financial straights of the Dutch MoD perhaps leave them with few choices and this detracts from the excellent work of Dutch medical and scientific staff working diligently to help counter the spread of Ebola. While several military medical staff and public health workers from various nations, including Cuba, have been involved and made valuable contributions to this crisis, sadly some have perceived it as an opportunity for their own financial interests.
In contrast, Russia and France have quietly undertaken humanitarian efforts and brought suitable resources to actually impact the Ebola outbreak in Guinea, without demonstrations of military hardware, nor for obvious economic gains.France too, has made significant strides as well of course as WHO and MSF both of whom have extensive experience in containment of Ebola outbreaks. In fact far from trying to profit, France has offered 100 million euro to help contain the outbreak and established several Ebola Treatment Units in Guinea. "In response to the appeal by the World Health Organization, Laurent Fabius, Minister of Foreign Affairs and International Development and Marisol Touraine, Minister of Social Affairs and Women's Health Rights, are scaling up France's assistance in the fight against the Ebola epidemic by sending a contingent of healthcare and medical experts to Guinea. Since the start of the epidemic, France has been strongly mobilized to combat the Ebola virus in West Afria, through its research institutes (notably INSERM and the Pasteur Institute, which identified the epidemic as soon as it appeared and are actively contributing to the diagnosis and monitoring of the disease) and its medical experts (who are supporting patient care, the control of the epidemic and the training of personnel alongside local, French and international humanitarian organizations)."
Source:http://www.diplomatie.gouv.fr/en/french-foreign-policy-1/health-education-gender/fight-against-the-ebola-epidemic/article/fight-against-the-ebola-epidemic. Their efforts are on the cusp of containing and ending the outbreak in Guinea.
Several other nations as well, far from using the tragedy of Ebola to promote themselves with photo ops, hosting high level dignitaries aboard their warships, have contributed in appropriate ways to reduce mortality rates."According to an Oxford University study, the Ebola virus could spread to fifteen tropical African countries, with nearly 22 million people living in the danger zone." Source:
Source:
Russia Beyond the Headlines -
http://rbth.co.uk/science_and_tech/2014/09/25/russian_scientists_develop_experimental_vaccine_against_ebol_40105.html
)
With statements by the
Dr.Jill Bellamy is an internationally recognized expert on biological warfare and defence. She has formerly advised NATO and for the past seventeen years has represented a number of bio-pharmaceutical and government clients working on procurement strategy between NATO MS and Washington DC. Her private government relations consultancy Warfare Technology Analytics is based in the Netherlands. Dr. Bellamy's articles have appeared in the National Review, The Wall Street Journal, The Washington Post, The Sunday Times of London, Le Temps, Le Monde and the Jerusalem Post among other publications. She is a CBRN SME with the U.S. Department of Defence, Chemical, Biological, Radiological and Nuclear Defence Information Analysis Center and CEO of Warfare Technology Analytics.
.