WTA represents a number of international firms with innovative technologies for government procurement in the bio-defence sector. The last few months has seen several technologies, some of which have been in the pipeline for a number of years, move into high paced production. While WHO estimates Ebola in West Africa will be brought under control, if not ended in 2015, the positives we take away are multiple technologies which would not likely have emerged in absence of this tragedy.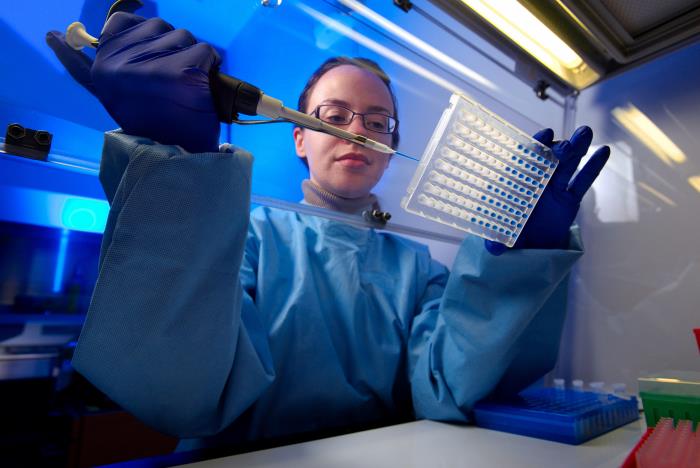 PCR Source: CDC
A handful of technologies we consider forerunners are those less obvious but with broad application use such as novel diagnostic tools (PCR), decontamination equipment, advances in field hospital construction and personal protective equipment. In terms of national strategic stockpiling within NATO member states, these four areas are of primary interest for the sole reason that all will be necessary for responding to a range of public health, defence and humanitarian related crisis.
A major issue which arose early on in this Ebola outbreak, was the lack of diagnostic testing due mainly to fragile public health infrastructures and significantly the time it was taking to receive back test results. In some instances this took days during which time many more persons were exposed to Ebola and infected. Technologies to reduce this time literally saved lives. Bio-Fire caught my eye and was indeed approved by the FDA for emergency use. As its highly portable from a bio-defence and force protection perspective it is an ideal candidate for stockpiling. A range of other highly innovative PCR test kits emerged as well. Roche has received an Emergency Use Authorization for LightMix Ebola Zaire rRT-PCR (Source: http://molecular.roche.com/News/LocalNews/Pages/Roche_receives_FDA_Emergency_Use_Authorization_for_the_LightMix_Ebola_Zaire_rRT-PCR_Test.aspx).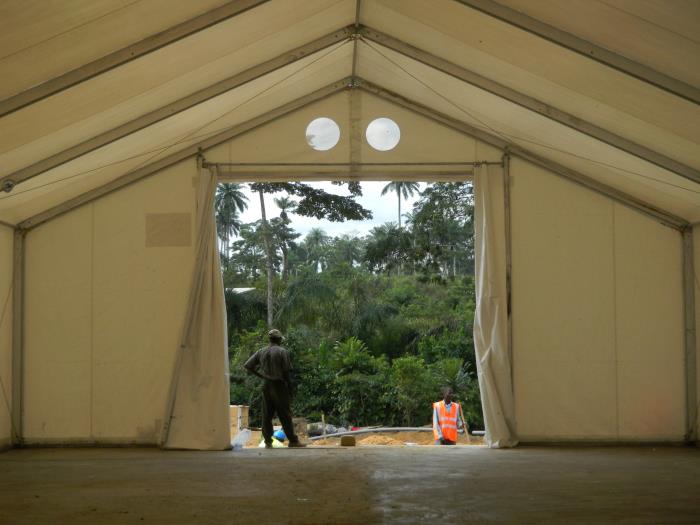 Ebola Treatment Unit Source: CDC
Decontamination of equipment and PPE's beyond chlorine and or incineration, is addressed in a novel way by Xenex who produce a UV based robotic system. At the other end of the barrier/decontamination spectrum is decontamination of waste. In an article entitled: An Unexpected Ebola Infrastructure Problem: Waste," the author S.E.Smith notes: "Patients with [Ebola] virus produce 440 gallons of medical waste daily, including instruments, gowns, gloves, body fluids, sheets, mattresses and more. That's a substantial amount of medical waste in any situation, but its especially daunting in this case because it needs to be disposed of extremely cautiously, to avoid the risk of spreading infection." (Source: http://www.care2.com/causes/an-unexpected-ebola-infrastructure-problem-waste.html) US based hospitals were unprepared to handle the volume of waste generated by the handful of Ebola cases in the US. It is of interest to watch emerging technologies in this area. The US Department of Defense Chemical, Biological, Radiological and Nuclear command has identified formulations for ultrafine fiber liner material embedded with detoxifying compounds (Source:https://books.google.nl/books?id=2pY5ZLDEuroC&pg=SL3-PA11&lpg=SL3-PA11&dq=DARPA+virus+killing+surface+material&source=bl&ots=qyr83flZU9&sig=ROPQ4bSmz501euzRoq9FctMRMxU&hl=en&sa=X&ei=CeGoVLSSH9jvaIj4gegP&ved=0CE0Q6AEwBw#v=onepage&q=DARPA%20virus%20killing%20surface%20material&f=false) the potential uses of such materials in field/tent hospital construction and PPE applications are exciting would clearly merrit closer attention for production, procurement and eventual stockpiling.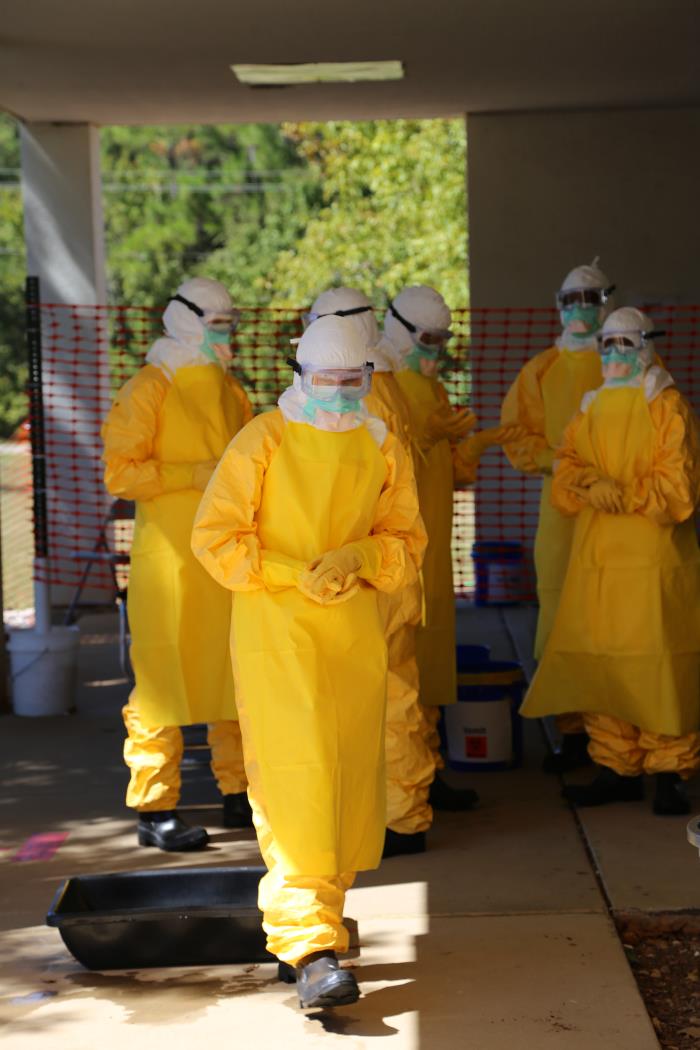 Source: CDC
Clearly the range of technologies which have come to the surface during this Ebola outbreak will likely change the composition of national strategic stockpiles for years to come. The postive result of this will be technologies and products with broad based applications for a range of public health security issues and bio-defence for force protection. As tragic as this Ebola outbreak is, indeed it was a wake up call after years of rather stagnant procurement not only with regard to US stockpiling but EU/NATO Member State acquisition as well. Bio-defence technology innovation has jumped by leaps and bounds and is likely to continue for years to come. Perhaps more importantly however is these technologies are highly applicable to such a wide range of events and not a 'one bug one drug' approach.My personal interest is in acquisition of technologies with broad applications to public health.
Dr.Jill Bellamy is an internationally recognized expert on biological warfare and defence. She has formerly advised NATO and for the past seventeen years has represented a number of bio-pharmaceutical and government clients working on procurement strategy between NATO MS and Washington DC. Her private government relations consultancy Warfare Technology Analytics is based in the Netherlands. Dr. Bellamy's articles have appeared in the National Review, The Wall Street Journal, The Washington Post, The Sunday Times of London, Le Temps, Le Monde and the Jerusalem Post among other publications. She is a CBRN SME with the U.S. Department of Defence, Chemical, Biological, Radiological and Nuclear Defence Information Analysis Center and CEO of Warfare Technology Analytics.